Get Ready for Tough Neck, Tortuous Iliac or Endoleak
This module allows for practicing endovascular abdominal aortic aneurysm repair using a stent graft system with a realistic deployment handle. The steps include aortography, deployment of the bifurcated and contralateral leg stent graft components, deployment of iliac or aortic extenders, and touch-up ballooning. The trainee may encounter complications such as endoleak Type I or III due to incorrect stent graft sizing or positioning and try to manage them. Patient anatomies vary in aortic neck diameters, lengths, and angulations, aneurysm sizes and orientations, iliac arteries diameters, tortuosity, and calcification.
Learning Objectives:
To practice EVAR in a variety of anatomies, including various neck diameters, lengths, and angulation, tortuous and calcified iliacs
To learn how to appropriately size stent-graft components
To become proficient in planning an intervention in various anatomical settings
To gain confidence in procedural steps using a self-guided tutorial
To gain competence in accurately positioning and deploying an infrarenal stent-graft without compromising important vessels
To practice contralateral gate cannulation using different catheter curves and verifying wire position.
To practice identifying and managing Type Ia, Type Ib, and Type III endoleaks
Specialties: 
Vascular Surgery, Interventional Radiology, Thoracic Surgery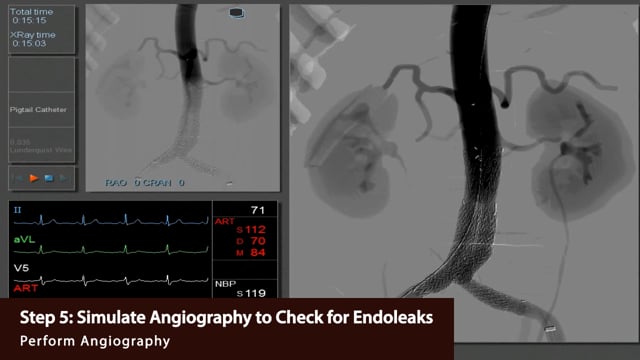 Contact Us
Do you want to know more about our EVAR module?