This module was developed during the COVID-19 pandemic, in March 2019 to answer the need for training of front-line teams. It provides hands-on training for point-of-care ultrasound skills essential in the triage and monitoring of the coronavirus.
It includes unique clinical cases of patients suspected or diagnosed with COVID-19. Each case shows different ultrasound characteristics typically found in COVID-19 patients such as B-lines, thickening of the pleura, and consolidated lung. The echocardiography cases show clinical cases of COVID-19 patients with cardiac complications. In addition, the module includes relevant didactic material such as basic ultrasound introduction, typical COVID-19 findings, and a disinfection protocol.
Learning Objectives:
To perform a complete lung and echo exam
To learn and gain confidence in performing the BLUE protocol examination
To learn and gain confidence in performing the Bedside Echo protocol examination
To recognize and identify the various ultrasound lung artifacts
To diagnose lung and pleura pathologies typical in COVID-19 patients
To understand the lung ultrasound triage in COVID-19
Specialties:
Internal Medicine, Radiology, Trauma, Cardiology, Echocardiography, Critical Care, Emergency Medicine
COVID-19 Module Introduction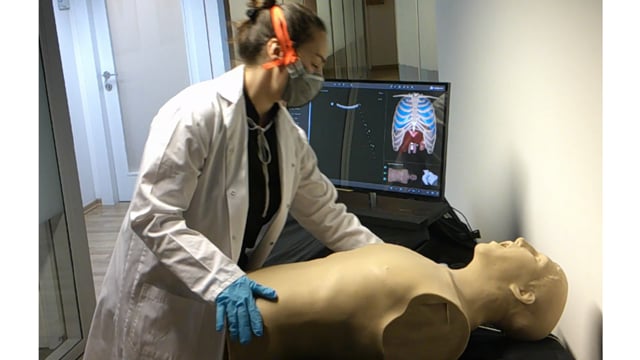 Contact Us
Do you want to know more about the Ultrasound Mentor Covid-19 module?