Removing the Right Upper Lobe
The Lobectomy module provides practice for the complicated steps involved in the Video-Assisted-Thoracoscopic-Surgery (VATS) Right Upper Lobectomy using an Anterior approach, including breathing and pulse movements, in a safe and realistic environment. Proctor Mode lets the proctor intervene in real-time during the procedure, by triggering injuries, causing tools to malfunction, etc., to stress the trainee and evaluate his/her decision-making and response to emergency situations. Visual cues help beginners navigate through the procedural steps.
Learning Objectives:
To inspect the thoracic cavity
To identify, dissect and divide the vessels, bronchus, and fissures
To learn how to avoiding and managing potential complications and emergency situations such as injury to the pulmonary artery and vein branches, phrenic nerve, pericardium and azygos vein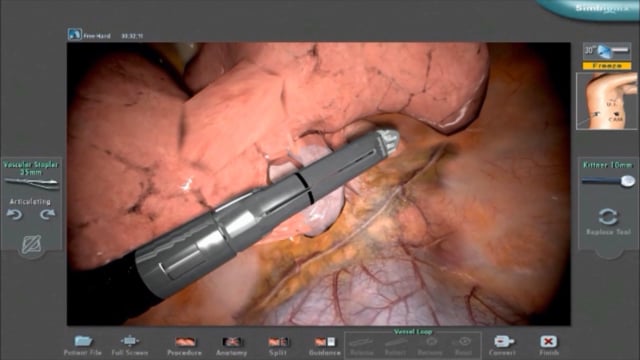 Contact Us
Do you want to know more about our LAP Mentor Lobectomy module?