This module includes patient cases requiring diagnostic bronchoscopies, including visual inspection and various methods for tissue sampling. Biopsy forceps, cytology brush and aspiration needle, and bronchi alveolar lavage, can be utilized for different cases where endobronchial or transbronchial sample obtaining is required.
Learning Objectives:
To practice the complete workflow of diagnostic bronchoscopy procedure
To perform a complete airway inspection
To practice endobronchial and transbronchial tissue sampling using biopsy forceps, cytology brush, aspirating needle and BAL
To sedate and maintain virtual patient's condition avoiding hemodynamic and respiratory complications
To practice on a variety of virtual patients, each exhibiting unique anatomy, pathologies and altering response to moderate sedation
To perform in a true-to-life environment where operational or clinical mistakes can be made and learnt from
To gain experience in all aspects of diagnostic bronchoscopy prior to performing on real patients
Specialties:
Interventional Pulmonology, Pulmonary Medicine, Thoracic Surgery, Critical Care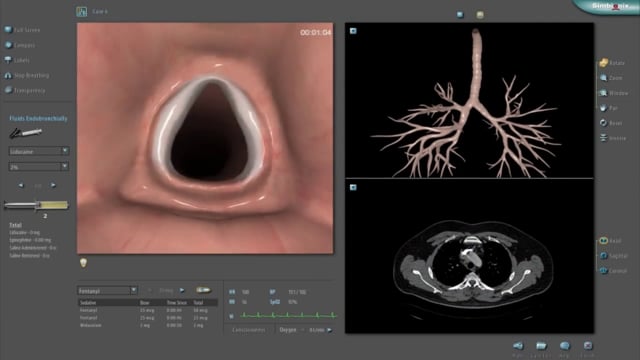 Contact Us
Do you want to know more about the BRONCH Mentor Diagnostic Bronchoscopy module?