AR Proctoring Tool
The first radiation awareness augmented reality simulation add-on.
A proctoring tool that provides awareness to the harmful ionizing radiation generated during x-ray-guided procedures.
The augmented reality-based application connects to the Simbionix ANGIO Mentor, to allow Cath Lab and hybrid OR teams to practice various endovascular simulation cases, and establish the ALARA principles by effectively grasping the three basic protective measures: time, distance, and shielding. The application shows real-time radiation scatter in the room, taking into consideration C-arm projections and other imaging parameters.
Features and Benefits:
Connects to a variety of simulation modules in real time
Enables radiation-free proctoring for radiation safety in a real-life clinical settings
Integrates radiation scatter visualization with a real C-arm that may be connected to the simulator
Based on clinical studies and radiation distribution models*
Compatible with all generations of ANGIO Mentor Suite
Supports remote screen sharing – a great tool for webinars
Both Wi-Fi and Cable connection are available
Minimize radiation exposure through interactive learning to protect your patients and team.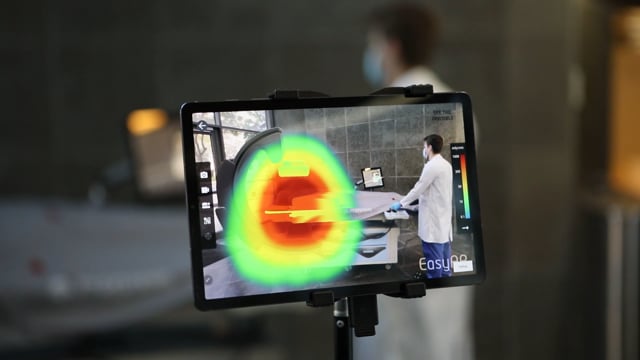 *References:
Vano E, Sanchez RM, Fernandez JM, et al. A set of patient and staff dose data for validation of Monte Carlo calculations in interventional cardiology. Radiat Prot Dosimetry. 2015;165(1-4):235‐239. doi:10.1093/rpd/ncv032

Katz, A., Shtub, A., and Roguin, A. Minimizing Ionizing Radiation Exposure in Invasive Cardiology Safety Training for Medical Doctors. ASME. ASME J of Nuclear Rad Sci. July 2017; 3(3): 030905. https://doi.org/10.1115/1.4036431

Jaschke, W., Bartal, G., Martin, C.J. et al. Unintended and Accidental Exposures, Significant Dose Events and Trigger Levels in Interventional Radiology. Cardiovasc Intervent Radiol (2020). https://doi.org/10.1007/s00270-020-02517-2

Loy Rodas, A. Kadkhodamohammadi, M. de Mathelin, A. Gangi, N. Padoy. A global radiation awareness system using augmented reality and Monte Carlo simulations. ECR 2018. 10.1594/ecr2018/C-1615
Contact Us
Do you want to know more about the ANGIO Mentor's Radiation Safety add-on?